SHORT FICTION
"Bees in Winter." Corvid Queen. December 2022. A woman finds a bee in her apartment; it all escalates from there. Free to read.
"'Til Death." PodCastle, June 2022. A vampire writes letters to her childhood best friend. It's important to preserve one's real relationships, after all. Free in both text and audio.
"Choose Your Own." Daily Science Fiction, April 2022. You need to get to the market, but there are dragons waiting. Read it here.
"Cenotaph." Augur Magazine 4.2, December 2021. A statue walks into a coffee shop. Somehow this is a story about grief, and the collateral damage of lost relationships. A brief preview is available online, with subscriptions available from Augur.
"Wednesday's Child," Fusion Fragment #7, July 2021. A former insurgent tries to deal with an alien invasion in another way. Available in PDF, epub, or print; electronic versions are pay-what-you-want, including free.
"Side Effects May Include," On Spec #28 no. 4, 2018. A woman who is running out of credits and options tries to find a job. Her holographic assistant helps. Available in print or PDF; ask for back issues through On Spec.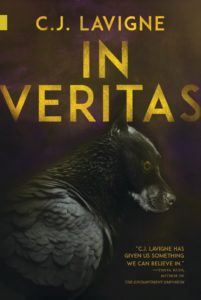 IN VERITAS
Verity Richards has been trapped all her life by her inability to articulate a world where she is surrounded by the waxen scent of bird song, the sound of crisp sunlight, and the salted tang of falling leaves. She has always seen the dragons, ragged and thin, clinging to the power lines and nesting in the trees. She has learned to keep quiet. She lives with her boyfriend Jacob in an old townhouse in Ottawa, doing whatever jobs catch his fancy. She keeps her head down, and the city is a maelstrom in her ears and ice on her tongue.
Everything changes the day she walks past a street magician in the Byward Market, watches him turn a dog into a snake, and realizes his magic is real. As Verity struggles to balance impossible truths, she learns about people who should not exist—people whose very survival is threatened by science and natural law—who have taken refuge inside the walls of an old theatre, seeking succour at the hands of a dying angel.
In the fissured recesses of the city dwell the magician, his shadow-snake, a feathered martyr, and a knife-edged woman who is more than half ghost. On the streets, a strange girl stalks, centuries of anger in her smile. A time of reckoning is coming, and it's up to Verity to decide whether the people who've fallen between should fight back for what they've lost, or abandon the world… maybe destroying it in the process.
Praise for In Veritas
"Like all the best fantasy novels, In Veritas shows us our own world in a way we had never quite considered but somehow have always known. Reading this was like looking through my glasses right after I've cleaned them. I'll never look at my city in quite the same way again."
~ Kate Heartfield, author of Armed in Her Fashion
"The perfect mix of incandescent writing and enthralling storytelling. C.J. Lavigne has given us something we can believe in. Learn to see the dragons."
~ Tanya Huff, author of The Enchantment Emporium
"Verity is a richly-realised protagonist whose strength and strange vision unites a complicated community, with the very fabric of reality at stake. In Veritas is a surprising and rewarding novel from a talented author."
~ Candas Jane Dorsey, author of Ice & Other Stories
Order a copy:
Canada: All Lit Up | Amazon | Chapters Indigo | Kobo
U.S.: Amazon | Barnes & Noble | Bookshop | Kobo | Indiebound
U.K.: Amazon | Waterstones
Also available as an ebook via Amazon Australia; check your local retailer!
In Veritas is published by NeWest Press.